30 Day Challenge
Challenge yourself to complete 30 classes in 30 days. Or 4 classes each week for 4 weeks (4×4).
To enter, purchase the 30 Day Challenge membership and register your name at reception.
2 Ways to enter:
(1) 30 Day Challenge for 950:- (valid for those without an unlimited membership at our studio)
(2) FREE for Autopay/Unlimited Members! Just notify us at reception or via email.
30 days of laundry too much for you? Now you can include mat/towel service for the month!
Just 450:- extra during the challenge month (purchase now)
The Challenge runs from April 1-30.
Current memberships may be put on a freeze.
Rules:
1. Challenge yourself to practice 30 classes in 30 days, or 4 classes each week for 4 weeks (4×4).
2. If you miss a class, you are allowed to make up the class by practicing a double
sometime within the month.
Why do it?
"Give me 30 days, I'll change your body. Give me 60 days, I'll change
your life!"
– Bikram Choudhury
As a beginner, the Challenge can help you to learn the proper techniques, improve more quickly and gain more benefits from your yoga practice. As a more experienced student, it can help to take your practice to the next level, to be a tool to refine your yoga postures or find more stillness in your practice.
Your challenge will be intensely personal and individual – only through the journey will you know what benefits await you. Some of the many benefits of a daily practice are:
• Reduced stress
• Weight loss/weight gain (whichever is relevant)
• Greatly improved muscle tone and strength
• Improved flexibility
• Greater energy levels and feelings of vitality
• Reduced pain and stiffness, recovery from injuries
• Improved digestion and healthier dietary choices
• Better sleeping patterns
• A greater awareness of your physical, mental and emotional self.
Three key factors of practicing Bikram Yoga are frequency, precision, and intensity. By doing the practice daily, you can progress more readily. A consistent and careful practice allows you to better be able to listen to the body and be more precise with movements.
In addition, you will have the support of the teachers and other students at the studio to help you through it. The power of the group does wonders for motivation!
The Challenge is a great way to feel the potential of this powerful practice. It's not just a gift to yourself, but to those around you. It is a great way to push past your perceived limitations, step out of your comfort zone and see what you can achieve. While a commitment of time, it is more importantly a commitment to your health, wellness and spirit. With a regular yoga practice, you give yourself at least 90 minutes a day to revive and create a healthier inner environment which then allows you the good health to more easily give to others. Yoga gives us energy and allows us to connect our body, mind and spirit so that we can function to our maximum and live life to it's fullest.
A consistent and regular yoga practice is like brushing your teeth – you brush your teeth every day because you know it's good for your health and it makes you feel better. You never miss a day because you brushed yesterday!
Sign Up Now for the November Yoga Challenge and see where your practice will take you.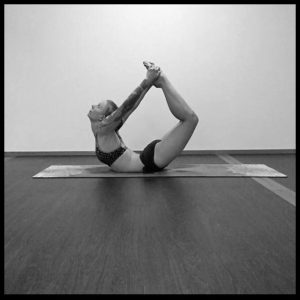 Please take a few minutes to read this open and honest testimonial from one of our inspirational students. The power of yoga to heal and transform is enormous. Feel huge gratitude to serve this wonderful community to make their lives better one drop of sweat at a time.
"Jag tog min första bikramyogaklass i september 2010 och sedan dess har yogan funnits i mitt liv, ibland som komplement, ibland som huvudsaklig träning. Utöver yoga har jag genom åren ägnat mig åt löpning, cykling, simning, styrketräning och klassisk balett. Ibland har jag haft uppehåll från bikramyogan, som längst ett år när jag bodde på en ö där det inte fanns någon yogastudio. I juli 2016 flyttade jag till Göteborg och sedan dess har jag utövat bikramyoga mellan fem och åtta gånger i veckan.
I april 2017 bestämde jag mig för att göra en 100-dagarsutmaning. Med tre 30-dagarsutmaningar bakom mig ville jag på allvar testa mina gränser och att göra 100 bikramklasser på 100 dagar kändes som ett naturligt steg. Jag var nyfiken på att se vad som skulle hända med min kropp och mitt sinne om jag bara fortsatte att yoga, utan vilodagar, utan uppehåll. Jag ville se om jag kunde få yogan att bli en lika naturlig del av mitt liv som detta att äta och sova.
I början kändes det enkelt. Jag fokuserade på kroppen och den fysiska träningen. Jag kände mig stark, vissa veckor yogade jag tre dubbla klasser utan problem. Anledningen att jag i början gjorde så många dubbla klasser var rent praktisk, jag ville se till så att jag hade några "extra dagar" till godo ifall jag skulle bli sjuk och behöva vila från yogan någon gång under 100dagarsutamningen.
Efter de första 30 dagarna lade jag medvetet fokus på sinne, meditation och koncentration under yogaklasserna. Jag provade olika mantran för att rensa huvudet och fastnade vid "Jag Nu". Att andas in på "Jag", andas ut på "Nu" de gånger jag kände att tankarna började vandra ut från yogasalen eller om yrseln och illamåendet gjorde sig påmint. "Jag" som en påminnelse att enbart fokusera på mig själv och ingen annan i rummet. "Nu" för att det är här och nu som gäller, att varken låta det förflutna eller framtiden få komma in i yogarummet. Vissa dagar bar det emot mycket att gå till yogastudion för att ta dagens klass. Jag kunde känna en enorm trötthet bara av tanken på bikramyoga. Ibland var tröttheten mental och den kunde rinna av mig under klassens gång. Andra gånger var tröttheten fysisk och då fick jag ta många vilopauser under klassen.
Mellan dag 60 och 100 kunde jag fortfarande känna trötthet vissa dagar, men jag märkte också en ny styrka hos mig själv. Det kändes som att jag lyckades koppla ihop kroppen och sinnet, att jag avancerade och kom djupare såväl i positionerna som i min egen meditation.
Jag känner att den största vinsten av mina 100 dagar är den förändring som skett i mitt sinne. 100 bikramyogaklasser gav mig en ny närvaro och en ny koncentration, både i och utanför yogastudion. Jag har känt mig mer närvarande i livet och i min kropp och i mötet med andra människor. I min vardag lever jag med en svår depression och kronisk ångest, och jag upplever att bikramyoga lindrar mina symptom väsentligt. Det är något med de 26 positionerna och de två andningsövningarna som är väldigt bra för mig. Efter en bikramklass känner jag mig renad, inifrån och ut. Ren från ångest och depressivitet, det är som att alla lager i mig har skalats av och att jag blivit fri. Och ju mer jag yogar, desto större blir effekten. Efter ett dubbelpass t.ex. kan jag vara symptomfri i flera timmar. Jag har insett att jag behöver yogan för att komma i kontakt med mig själv och för att orka ta hand om mig själv. Yogan gör att jag ser till att äta bra och sova.
Det har varit dagar, veckor, nästan månader under mina 100 dagar när bikramyoga varit det enda jag orkat göra. För mig handlar bikramyoga till stor del om överlevnad. Jag vet att om jag inte yogade regelbundet skulle jag må så mycket sämre än vad jag gör idag, jag skulle kanske inte ens vara vid liv om det inte var för bikramyoga. Jag känner en sådan tacksamhet inför mig själv över att jag tog beslutet att genomföra 100 bikramklasser på 100 dagar, det gav mig mer än vad som någonsin kan sammanfattas med ord. Nu i slutet av september har jag påbörjat en ny 100dagarsutmaning och jag är så spänd på att se vart dessa dagar ska leda mig, min kropp och mitt sinne. Från djupet av mitt hjärta uppmanar jag alla som någonsin övervägt att utmana sig längre än en 30-dagarsutmaning att ta steget att inkorporera yogan som en naturlig del av vardagen. För mig har den dagliga yogan nu blivit så naturlig som att borsta tänderna, äta och sova. Vissa dagar känns det fortfarande motigt att gå till yogastudion, jag kan fortfarande känna mig fysiskt svag och mentalt trött av tanken på bikramyoga. Men jag fortsätter gå varje dag för jag vet hur bra det får mig att må. Mantrat jag har i mitt huvud de dagar det bär emot att åka till yogastudion är något som många bikramlärare sagt till mig genom åren: "You don't stop brushing your teeth just because you did it yesterday"."
– Clara B